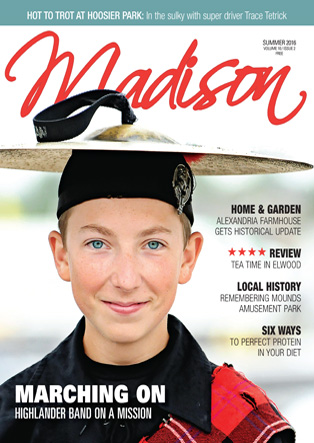 To some, summer means time off from school and sleep-overs with friends. To some, it means flower tending and bird watching. To others, it means baseball and swimming pools.
Whatever summer means to you, we hope this issue of Madison magazine gets you in that relaxed, fun-loving frame of mind that fits so well from the time the season blossoms in June through the dog days of August.
Our cover story acquaints you with new Anderson University President John Pistole. The Anderson native has traveled a long route through Washington, D.C., where he was appointed by President Obama to lead the Transportation Security Administration. Now, Pistole says, God has called him home for an entirely different mission.
This issue also includes your favorite every-issue features: Howard Hewitt's wine column, calendars of local and state events, our Faces and Places photo collection, and David Reddick's Everyday People cartoon panels.
As editor of Madison magazine, I welcome and encourage your ideas for feature articles as well as general comments about our publication. You can always reach us at madison@indianamediagroup.com
Thanks for reading Madison magazine.
Scott Underwood, Editor
Life in Madison County is rich with transitions and new possibilities. Madison magazine celebrates those qualities by highlighting the people, places and events that shape our lives. In each issue, writers sample a local restaurant, visit an attractively-decorated home, check out current trends and chat with a celebrity who has local roots, among other feature articles.
Madison is published quarterly. The staff hopes that Madison compliments the traditions and transitions of Madison County while opening new possibilities for those with active lifestyles.